Since its founding in 2015, the scope of activity of Fejér-B.Á.L Zrt is the construction of residental and non-residental buildings as general contractor.Other activities include renovation of historical monuments, technical counseling, metalworking and production of construction-grade concrete.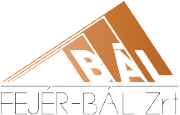 Along with the continuos improvement of working conditions and acquiring cutting edge equipment, the company management puts great emphasis on hiring the most qualified employees and granting them proper further training.
The staff consists of 120 blue-collar and 110 white-collar employees, with a personnel of 7 in senior postion. These professionals earned the Constructors' Masterworks award regarding the construction works of Pancho Arena in Felcsút.
The high quality requirements imposed by customers made it necessary for Fejér-B.Á.L. Zrt to introduce an environment-oriented managament and quality assurance system (MSZ EN ISO 9001, MSZ EN ISO 14001, MSZ 28001:2008, MSZ EN ISO 3834-2). Thanks to these, the company performs high-standard and quality work, in both management and production, which is constantly confirmed by our customers.
In accordance with its strucutre and professional staff the Company is suitable for full implementations of construction projects from designing to handover.Fejér-B.Á.L. Zrt is constantly applying for construction tasks in order to strengthen its market position.
Hunguest Hotel Balatonalmádi
Zsámbék School + Mány Leimen-house
Biatorbágy Technical school
Endresz György School Felcsút