Real estate as a safe investment
Real estate is still one of the safest investments today. Nowadays, a considerable uncertainty can be felt in this area, people fear for their saved resources, which is not surprising considering the situation of the recent period.
Every few years real estate prices rise so much in a single year, that the demand can hardly adapt, but they will not get any cheaper due to the rising prices of construction materials, technological expectations and regulations.
Meanwhile there was (is) a global financial crisis, foreign currency loans, COVID. These caused temporary declines, but the numbers speak for themselves.
According to experts, real estate is one of the most stable investments in the long term. Looking at the change of prices in the last 14 years we can see that minor stagnations and declines were noticeable, but they did not last long, and there was always an increase in the end.
National Bank of Hungary (November 2022) – Housing market report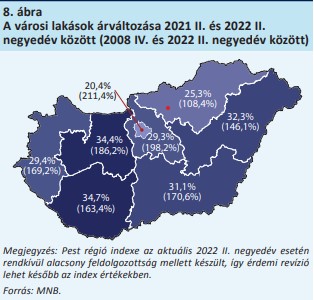 "There has been a significant rise in house prices in rural towns across the country in the last year. In the second quarter of 2022, the significant increase in housing prices experienced in rural cities was realized across the country on a wide scale, and a rise exceeding 25% could be seen in annual housing prices in the cities of all regions (Figure 8). The largest annual increase in prices was experienced in the Southern Transdanubian and Central Transdanubian cities, where housing prices in the cities increased by 34.7% and 34.4%, respectively. In the long term, since the beginning of the global financial crisis - in the fourth quarter of 2008 - after Budapest, housing prices in the cities of central Hungary have risen the most, by a total of 198%, followed by the Central Transdanubian and Southern Great Plain regions with the housing market prices increased by 186% and 171%, respectively." (NBH Housing Market Report – November 2022).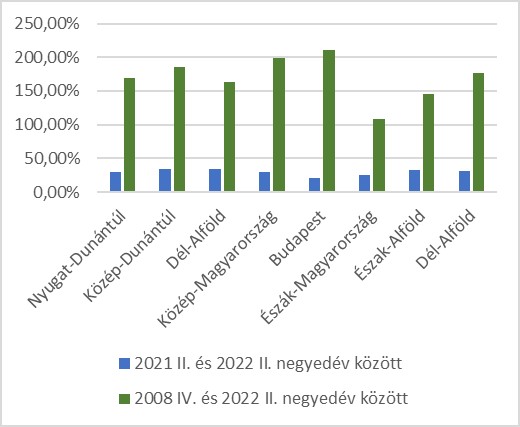 The attached graph clearly shows the rise in real estate prices from 2008 IV to 2022 II, and 2021 II to 2022 II, in the periods between quarters.
Most experts predict that only higher-quality and energy-efficient properties can be sold in the future.
In Alcsútdoboz we had the opportunity to dream and realize a high-quality and value-preserving real estate development in an area with special features on more than 75,000 m2. We felt it was important that the properties fit into their surroundings and to provide the most comprehensive service possible by keeping the quality of the buildings starting from the planning, through the construction, to the external units in one hand, so every detail creates a well-thought-out and unified image.
We offer the energy-saving, elegant, but not ostentatious Villas of Rézhegy Eco Villapark for those who are about to invest.